Baseball FINAL: Billings 14, Wheaton 9 @scoreboardguy @monettsports @ozarksozone

Softball FINAL: Wheaton 11, Verona 1 @scoreboardguy @ozarksozone @monettsports

Great effort by all 5th/6th grade basketball teams tonight vs. Verona! The 6th grade boys win on a buzzer-beating 3-pointer in overtime by Houston Roller! Go Bulldogs!

Riley Roller representing Wheaton Elementary in the Joplin Globe Spelling Bee today. Practice round over now for the competition. Watch him live at
www.joplinglobe.com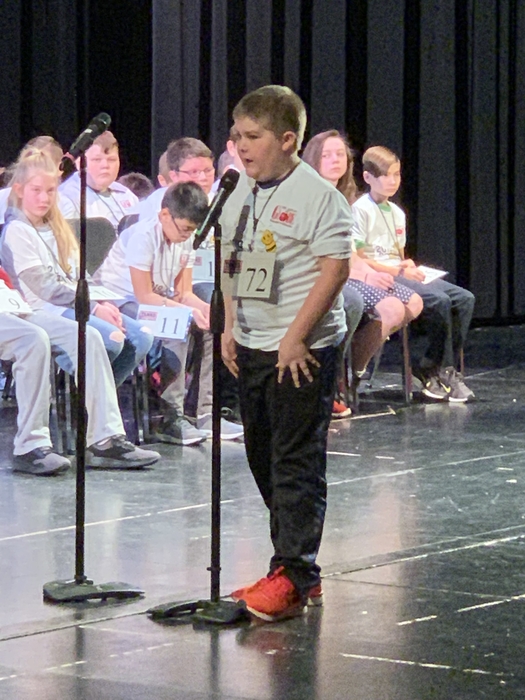 Softball girls took first place in the Verona Tournament! They defeated Exeter 12-4, Verona 10-2, and Galena 17-4. Congrats to Coach Creekmore, Coach Harvey, Coach Lacey, and the Lady Bulldogs!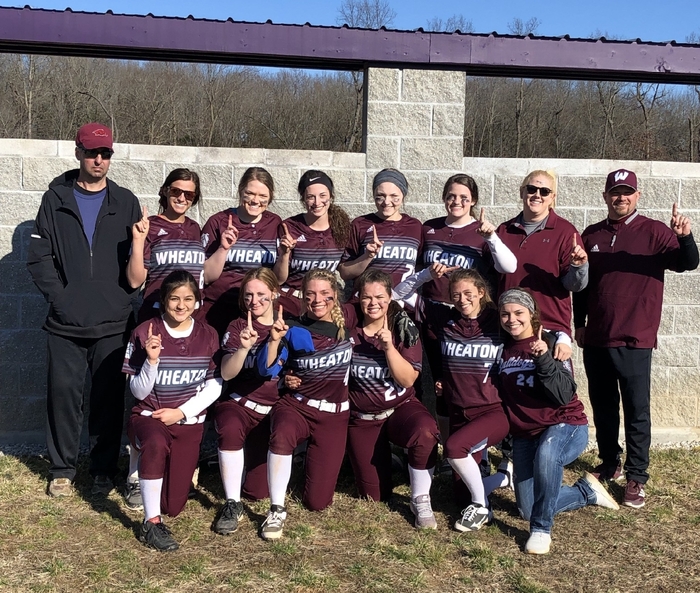 Junior high volleyball takes first place at the Southwest Spikefest today! Congrats to Coach Gudgell, Coach Shockley, and the Lady Bulldogs!

5th/6th grade first round boys results: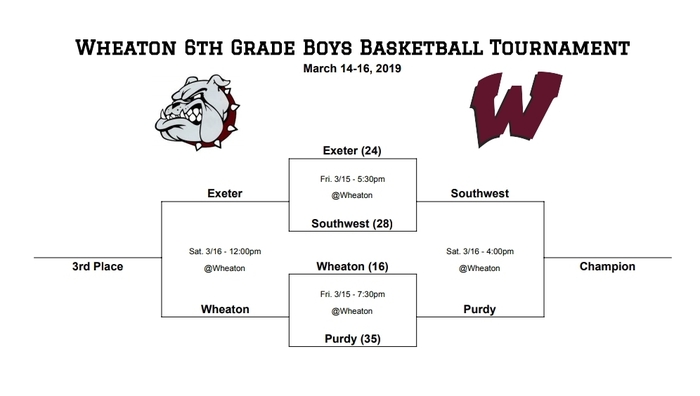 Softball FINAL: Exeter 14, Wheaton 9 @scoreboardguy @monettsports @ozarksozone

Baseball FINAL: Galena 8, Wheaton 6 @scoreboardguy @monettsports @ozarksozone

The junior high Bulldog volleyball team defeats Purdy in 2 sets tonight to improve to 6-1 on the season! Next match: Southwest Spikefest on Saturday

The 5th/6th grade girls opening round results at Exeter: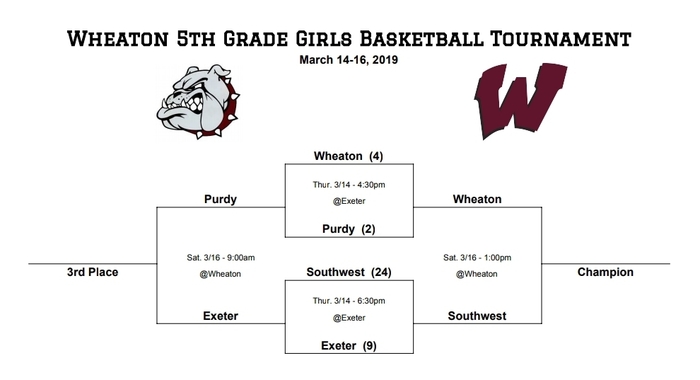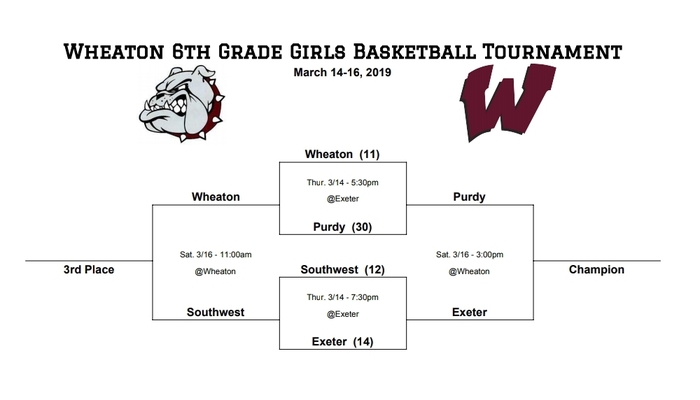 Reminder: No classes tomorrow or Monday for March break. Check the Events tab on the website or app to see what's happening over the break - come out and support your Bulldogs!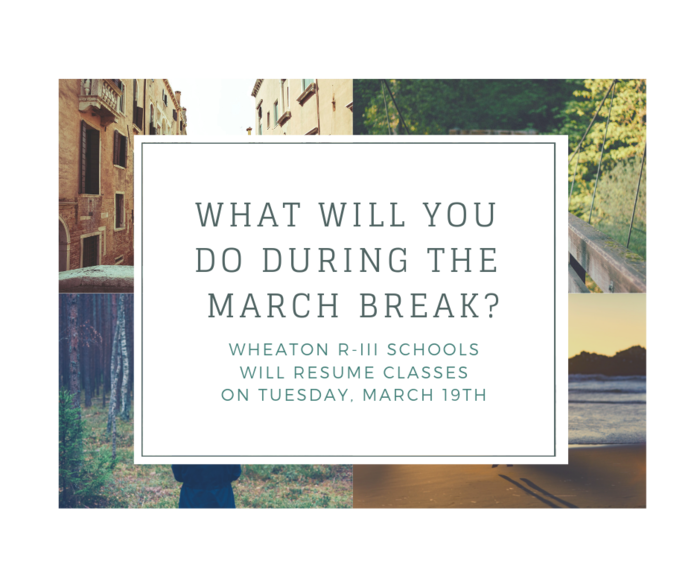 Track and Field district assignment: Class 1 District 3 Host: School of the Ozarks Bakersfield Billings Blue Eye Chadwick Dora Everton Fordland Galena Golden City Greenfield Greenwood Jasper Lockwood McAuley Catholic School of the Ozarks Sparta Thomas Jefferson Verona Wheaton

Softball class and district assignment: Class 1 District 10 Host: TBD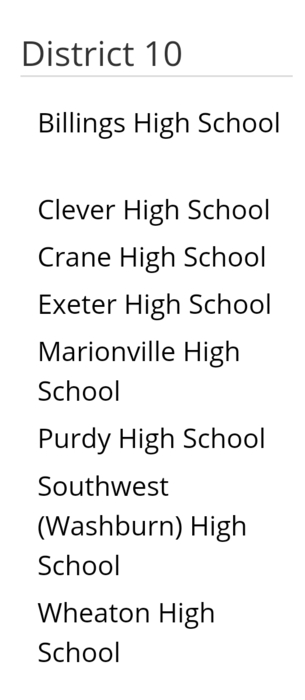 2019 Baseball class and district assignment: Class 2 District 6 Host: Crane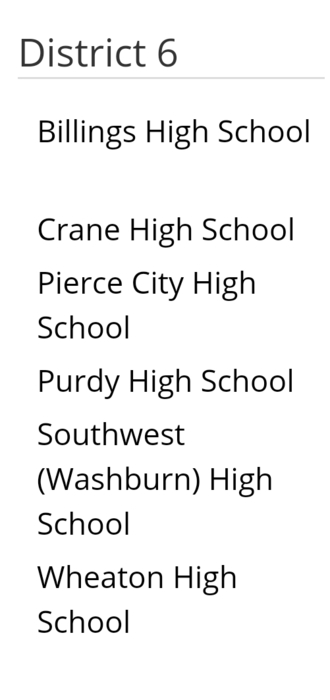 NHS Sponsored: URGENT! CBCO Blood Drive at Wheaton High School, Student Center, 03/13/2019 from 09:00 AM to 02:00 PM. Socks for all Donors! For info 417-227-5006 or cbco.org

The Bulldog junior high volleyball A team wins in 2 sets tonight vs. Exeter and improves to 4-1 on the season! Next match: home vs. Purdy on Thursday @4:30.

Student Council Apparel orders are here! If you placed and paid for an order, you may pick it up at the High School Office. Student Council would like to thank you again for your overwhelming support.

The baseball jamboree that was rescheduled for tonight at Exeter has been cancelled.

Congratulations to the following Wheaton students for placing at the Ozark 7 Math and Science Conference Contest that was held March 5th. Middle school results are: Hayden Royer 5th place in 7th grade math, Zoey Martell 3rd place and Kadie Mestas 2nd place in 8th grade math, Kenzie Robbins 7th place and Wyatt Gorman 2nd place in Earth Science, Kadie Mestas 7th place in Life Science and the middle school science team of Rowen Wise, Lisa Lee, Lily Ray and Allison Whitmore for taking second place. The high school results are: Patti Vang 7th place in algebra I, Zac Leverich 2nd place in geometry, Taylynn Banks 5th place in algebra II, Rachel Lacey 7th place in advanced science, the high school science team of Jack Mitchell, Rachel Lacey, Tori Goostree and Kaylee Hutsell 3rd place and the high school math team of Taylynn Banks, Viola Castro, Pa Vang and Payton Harper for placing 5th . Congratulations again Bulldogs!